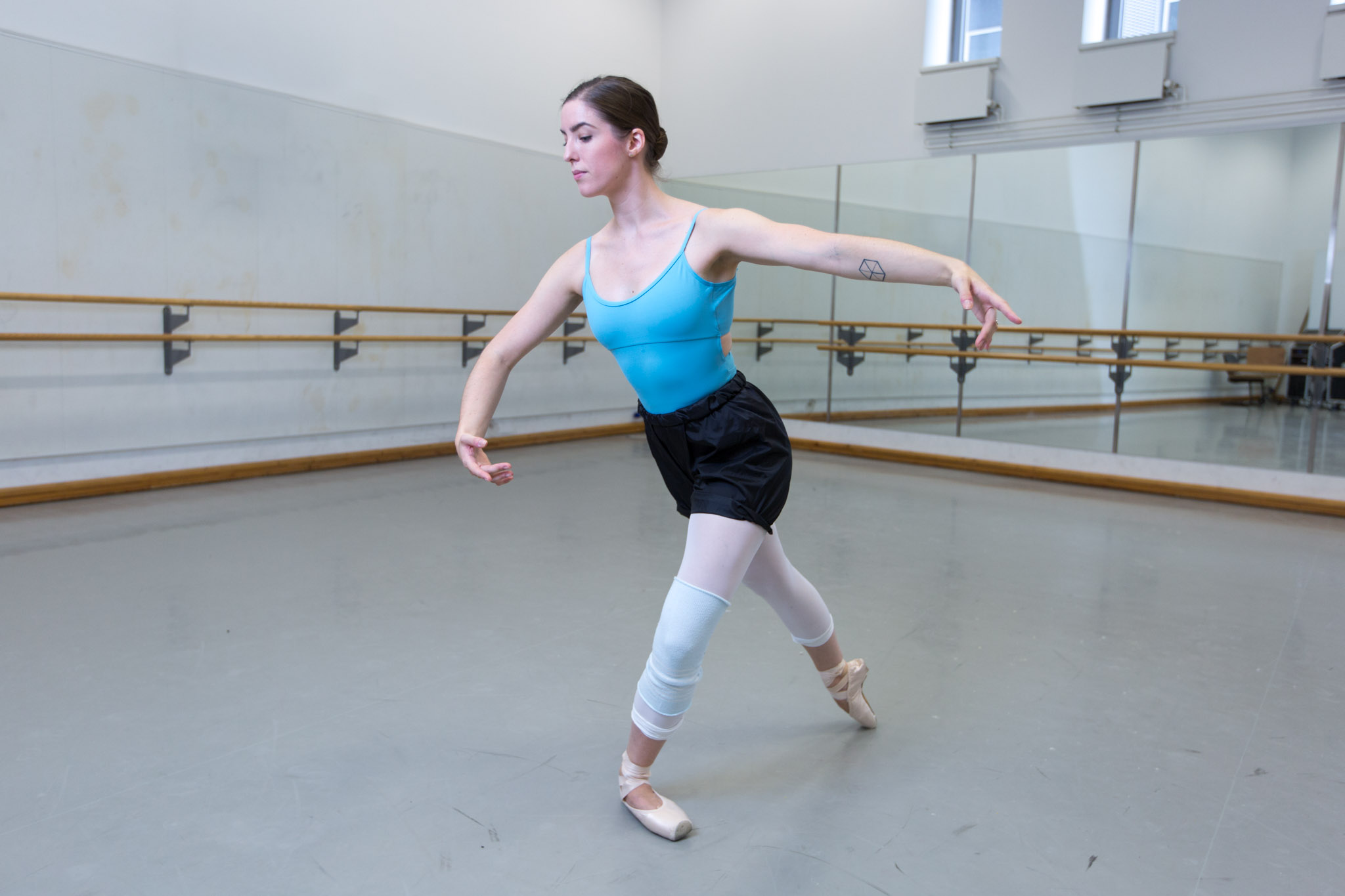 Photo by Johannes Kollender
Some people were simply born to move, and Deborah of @my.ballet.love is no exception. As a child, her boundless energy landed her in ballet class. Now, over two decades later, she still radiates the same energy and enthusiasm, sharing her ballet journey as a sincere expression of the delight that dance brings to her life. Her technique is already strong and serene, yet she remains determined, ever-reaching toward progress.
"You never stop learning with this art form/sport," Deborah says. "You can always work to get better."
Watch her Instagram videos and you will find that her dancing also reveals an intuitive connection to music. This is not surprising, considering that both of her parents are classical musicians at the Hamburg Opera. As a child, she grew up surrounded by music and learned to play the violin.
"Whenever I get the rare chance of taking a class with a pianist," she says. "I can feel a huge difference in my attitude and movement. It's like instead of seeing in black and white, all of the sudden there are colors everywhere."
Like so many of us, Deborah thrives on this union of music and movement as if it were some sort of oxygen. It is no wonder that she has amassed an impressive number of like-minded followers–24k and counting. Her popularity is not only due to her content, but to her dedication, humility, and genuine efforts to cultivate a supportive adult ballet community.
Earlier this year, she launched Circle, A Shared Dance, a project sparked by her desire to dance with her newfound virtual barre buddies. The result is this beautiful video featuring adult dance students from around the globe, each dancing Deborah's original choreography. Projects like Circle have made the #adultballet community even more meaningful for recreational dancers.
"I find it helps a lot to have a good community," she says. "Whether on Instagram or even better in your studio/class. Friends that… understand and can lift you up."
Thanks, Deborah, for being a friend to us all!
Q & A with Deborah
Q. Tell me a little about your background. Where are you from? How old are you? When and where did you begin your dance training?

I'm 29 years old and I was born and live in Hamburg, Germany. I first started dancing when I was five years old.

Q. What are your interests and/or occupations outside of dance?

Aside from ballet I love music. Can't live without it. Also movies, TV shows and I like to craft, like knitting or sewing.

For a while now I've also come to really enjoy Instagram and YouTube. I also like to travel and meet new people even though I'm sometimes having a hard time doing it.

Q. What first drew you to ballet? What do you still love about it?

Well actually my mother put me in ballet. I was constantly dancing around the house, doing headstands in every room, driving her crazy. So one day she wouldn't have it any longer, and the ballet school was the closest option. But quickly I fell in love with it and stuck with it for a long time.

Today I love ballet because it challenges me, both physically and mentally. You never stop learning with this art form/sport, you can always work to get better, and I absolutely enjoy moving to beautiful music.

Ballet can also be a very healing thing. On days or weeks that are just rough, you can always come to the barre, forget it all, and just lose yourself in the movements. That's very liberating, I find.

Q. How do you prepare for ballet class? Any strange habits or rituals?

Not really actually. I usually drive to class by bike, but in any case I want to be there early enough to have time to do a proper warmup and stretching, which makes all the difference for me. So I always roll out my feet, warm up my joints and carefully stretch for a bit, so the muscles are prepared to work long, not short and cramped when class begins.

Q. At the moment, what is your favorite dancewear brand or go-to class outfit?

I absolutely love wearing pastel colors, and unicolored outfits. That's what I mostly wear right now.

For brands, I don't really have one brand I prefer. I really love Intermezzo, they have gorgeous designs and the fit is very nice for adult dancers. Also Wearmoi, same thing, very comfy and beautiful. I also enjoy sewing and wearing my own ballet skirts. It's so much fun combining them with these pretty leos.

Also, now that winter is close, I usually start wearing thin white socks in my flats again during class, because our studio is a bit more on the freezing side unfortunately.

Q. You've made great efforts to connect with other dancers around the world, especially with your project, "Circle, A Shared Dance," which you choreographed yourself. What inspired the project and that particular choreography?

Actually the trips that we started making in 2015 were kind of the reason why. I keep saying that I would want to travel the world, meet all the adult ballerinas and dance together. So that thought stuck in my mind, that we weren't able to all dance together.

And then I just had the idea to connect them all in a video. The choreography was then inspired by the modern variations at the Prix de Lausanne 2017, which were contributed by John Neumeier. These neoclassical variations, some of them just with piano music, inspired me a lot for my own choreography. I loved the whole experience and will certainly do it again!

Q. What is your favorite ballet to watch?

Uh, that's a tough one. I haven't seen too many classics live. I have seen many many on DVD or YouTube. I really love The Little Mermaid, Kameliendame and Nijinsky by John Neumeier. I also love Alice's Adventures in Wonderland. I also love La Bayadere, Don Quixote and Manon. Of course there are so many more that I really love too… Oh, I have to mention The Concert and Dances at a Gathering by Jerome Robbins. Love those a lot too.

Q. Learning ballet as an adult can be frustrating. Do you have any advice to give to adults who would like to begin or re-begin ballet?

Yes, it absolutely can be frustrating. I have days, on which nothing works and I feel like a complete failure. I guess you just have to not think too much about those days and let them get to you. I also try to not compare myself to professional dancers, I rather try to be inspired by their abilities and look for things, that I feel like I actually can improve in.

I find it helps a lot to have a good community. Whether on Instagram or even better in your studio/class. Friends that are in the same [class] as you understand and can lift you up. If you want to start new, I think it's crucial to find a good school, that knows about teaching adults, and a teacher that pushes you in an encouraging way. Listen to your gut, and don't settle for anything you don't feel comfortable and safe with. Only then can you grow and discover your potential and love for it.

Q. As I continue to train, I'm finding that I would like to know more about music and music theory. I'm curious–do you have any sort of musical background or training? How does a good pianist affect class?

Actually my parents are classical musicians at the opera here in Hamburg, so growing up for me basically was music. Of course, I learned to play the violin at five years old and the opera/concert halls were my second home. I don't know too much about music theory, but our teacher is very specific about rhythmicality, musicality, accents and counts, so we learn a bit of it during class anyway. Having sort of a good musicality due to my parents it's quite easy for me I guess to adapt combinations and steps.

Sadly we don't have a pianist, but whenever I get the rare chance of taking a class with a pianist, I can feel a huge difference in my attitude and movement. It's like instead of seeing in black and white, all of the sudden there are colors everywhere.

Q. Have you had opportunities to dance in other cities or countries? If so, how did your experiences compare to dancing in your home studio?

I have. I've been dancing in Paris, London, Amsterdam, Madrid, Munich and Berlin and so far they all have been a great experience. The styles and languages of course are different, but the ballet vocabulary is always the same, and your body recognizes the movements, and instantly feels kind of home.

The class at my studio is a very tough one, the tempo is quick, there are many exercises,

it's a lot about stamina. So when I visit other classes, I usually feel quite relaxed, because so far there has never been a class as demanding as the ones at my home studio. So in a way, I'm well prepared to take on the adventures of dancing around the globe.

Q. Finally, what are your goals for your dance training and for your life in general?

Hm…. I think I just want to get better and better. I actually want to learn more repertoire and be able to dance them gracefully and on pointe one day. I keep thinking about founding an adult ballet company…that thought sticks for a while now. Not sure how that would work, it's just a feeling in my gut. I also want to keep traveling and meet other adult dancers, I hope to help, connect and inspire a lot more adults and/or young adults to dance if that's what their heart wants.

I get so many messages and comments on how they are insecure if they would be good enough, or that they've found my account and got to encouraged, that they started dancing again. Which really is like a huge gift for me.