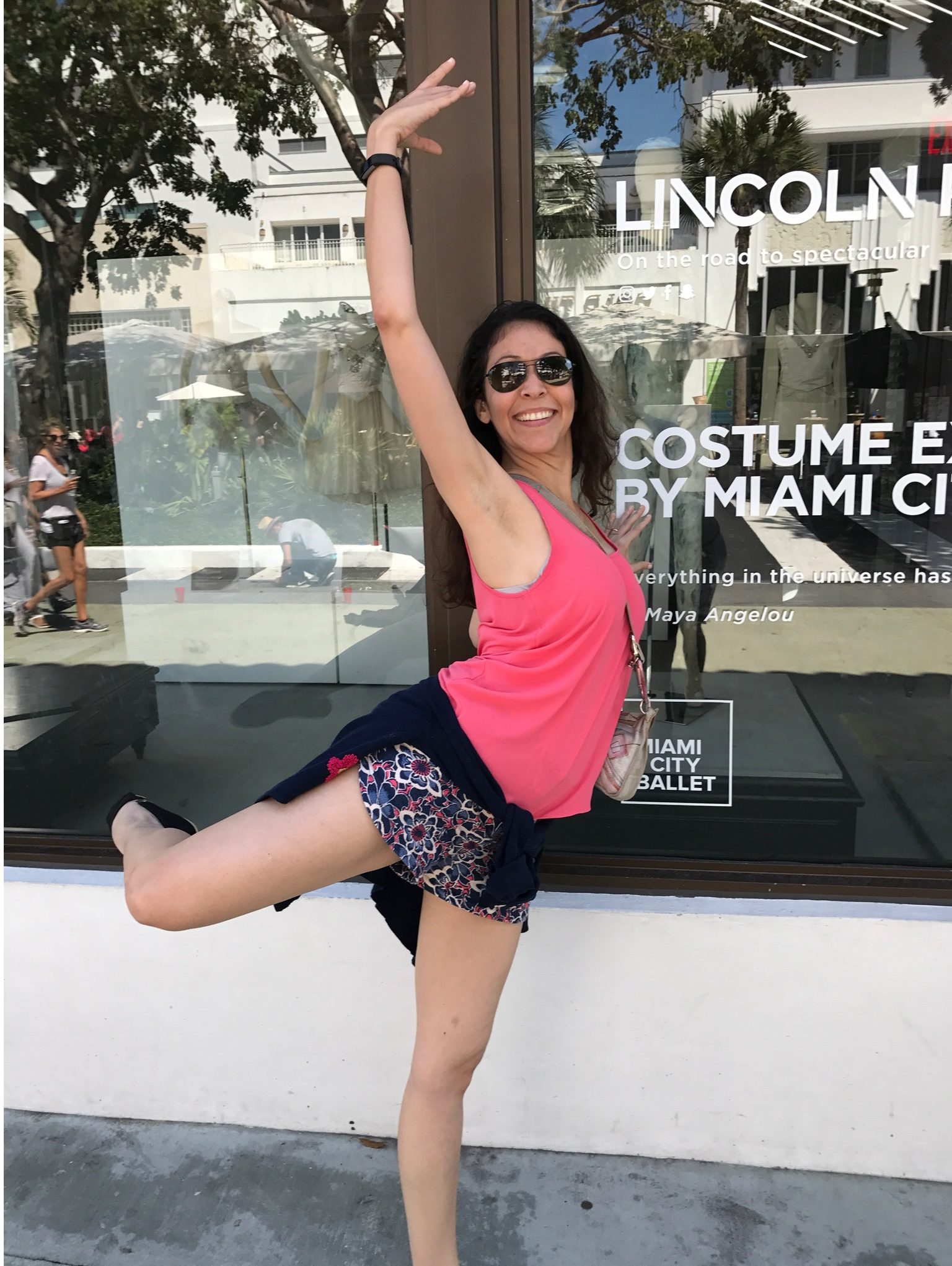 I've never met Ana in person, but I'm certain that she is a kindred spirit—the INFJ to my INFP, if we are to speak in Myers-Briggs terms. She is kind, reflective, sensitive to beauty, and a self-proclaimed "idealist and eternal dreamer." Naturally, these qualities carry over to her love of dance. She approaches ballet with discipline to be sure, but also with warmth, mindfulness, and imagination. I have been moved by the encouraging words she speaks to others in the ballet community, reminding us to be gentle with ourselves when we feel overwhelmed, but also to be brave.
Ana is 40 years old and lives in Florida, where she works as a corporate consultant. When she's not spending time with her husband and dogs, she loves doing any sort of creative endeavor, from painting and writing—she has kept journals since she was ten—to knitting and whatever else strikes her fancy. In 2014, after an almost 25-year hiatus, she decided to return to ballet class.
"I danced when I was a teenager but gave up ballet at 14," Ana says. "…so aside from the few basics, it was like starting from scratch."
Despite the difficulty of starting over, she stuck with it. Nowadays, she dances regularly at two schools that follow the Russian/Vaganova method, and she continues to document her ballet journey on Instagram. And, while she doesn't get around to watching many live ballets, she admits to being addicted to Dance Academy.
Um, that makes two of us!
My interview with Ana reminded me that ballet class can be a meditative experience—a time when we can set our troubles aside and be fully invested in the present moment. I believe this is why so many of us have been attracted to ballet. A good class offers respite from anxiety-filled days, exercise for our often-neglected bodies, and a creative, energizing community. We can stand at the barre, alone but not lonely and, as Ana's teacher says, "Just let it go."
Q & A with Ana
Q. What first drew you to ballet? What do you still love about it?

I am not a very active person. I hate the gym, did not like yoga and am definitely not into anything too social. Ballet encompasses many things I find attractive: it is a solitary practice (it only depends on me and as an introvert, it is appealing), it is structured and disciplined, and at that same time, it is an expression.  I love it because I can see the changes in my body, from not being able to touch my toes to being able to extend a leg, from having to look at other students for combination to being able do an entire combination all on my own. Little achievements, that are so rewarding.

Q. How do you prep for ballet class? Any strange habits or rituals?

Not really. I don't stretch before class. I find it that it makes me tighter. My biggest ritual is that after a long, stressful day at work, I just put my ballet clothes on and try not to think about it too much. Otherwise, I will just stay on the couch.

Q. Let's talk dancewear. What is your typical class attire?

I went through an insane phase of buying every leotard, skirt, leg warmer you can imagine. Now, I just wear something that makes me feel pretty and comfortable. I am skinny but I am very top heavy, so backless, spaghetti straps are not for me.

Q. Do you have a favorite step or part of class? Least favorite?

I hate fondu. HATE IT. lol. I used to dislike rond de jambes very much, but now I really like them. Hoping that one day, I will feel the same about fondu. I love everything else about the class.

Q. Learning ballet as an adult can be frustrating. What do you do to stay positive?

The most important thing is acceptance and not comparing yourself with others. I say the same to any newbie that comes to class. It will fall in place.

Q. Do you have any other advice to give to adults who would like to begin or re-begin ballet?

Just do it. One of my favorites teachers had a beautiful message to us last Saturday: Dance big. Dance. You come to class to dance. If you are timid and in this little space and afraid of making a fool out of yourself, then you are wasting your time and money. No one is looking at you. Everyone is too concerned with themselves. Just let it go. What's the worse that can happen?

Q. What are your goals for your dance training and for your life in general?

Flexibility is and will continue to be my biggest challenge. I have very tight hamstrings. And I want to dance a choreography beautifully.

Q. I love your paintings. How does the creative process compare with that of ballet? Do you see any interesting parallels between the two art forms?

I believe both are a form of expression. Ballet is like a painting in movement. They are both so amazingly meditative. You can get lost and forget about all the craziness and just be in that moment. Ever present and mindful.
Be sure to check out Ana's incredible artwork and ballet posts on Instagram @introvertedart !